For the first time, the financial institution includes this year a part for pre-approved loans to subscribe agricultural insurance, for an amount of €17.64 million, as well as a five-year credit line for investments, for €35.38 million.
This pre-approved loan line joins the wide range of products and services that the bank puts at the disposal of the agricultural sector, in its commitment to support agriculture and farmers. This is reflected in specific financing solutions, with low interest rate 11-month loans and 0% interest rate 6-month loans. Additional financial and protection services, advice, aids management and training are also offered.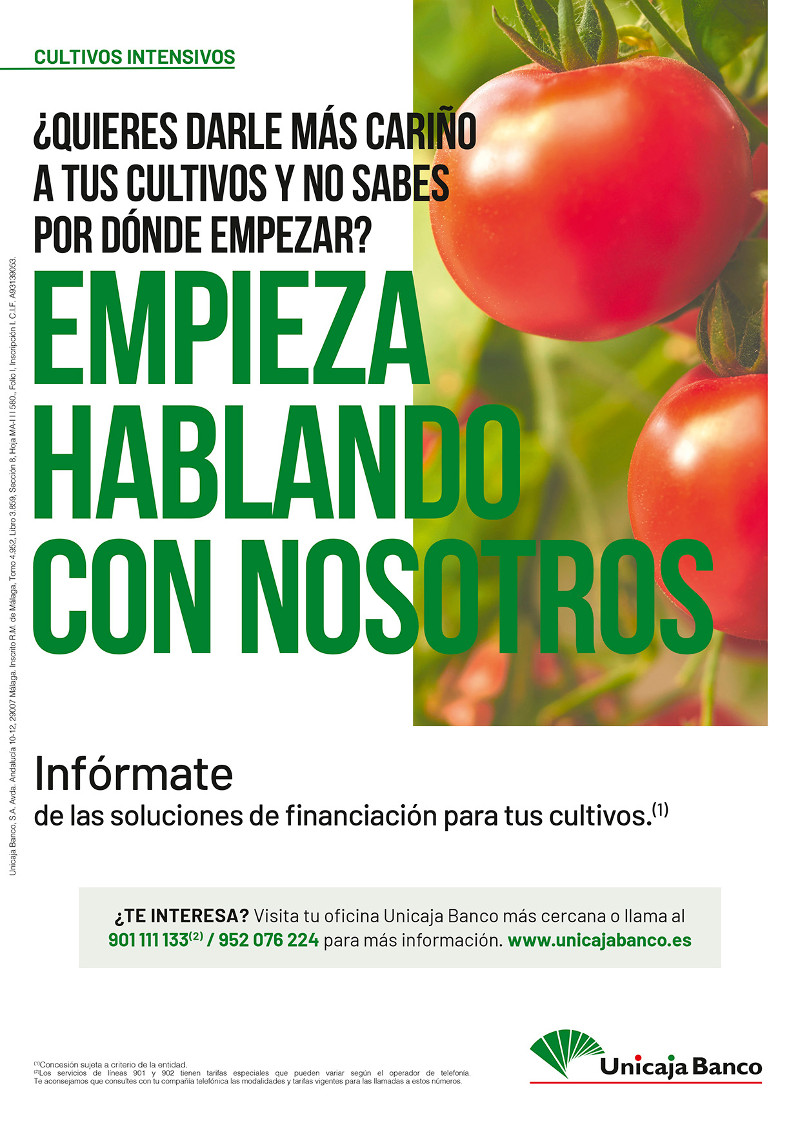 Unicaja Banco, coinciding with the start of the agricultural season 2018-2019, has launched its new campaign 'Intensive Cultivations', where the bank maintains its traditional support to the agricultural sector, offering up to €310 million in its pre-approved loan line targeted to the fruit and vegetable sector.
In this offer, especially designed for this sector and which will be in force until April 2019, it is to be remarked that the loan capital and interests are repaid upon maturity of the loan. This allows clients to adapt the said repayment to the date on which they receive payment for the harvest.
This year Unicaja Banco also offers a line of pre-approved loans for its customers with farms to subscribe insurance, for an amount of €17.64 million. Also, for the third consecutive year, it offers a €35.38 million line of five-year pre-approved loans for investments to update and improve intensive crops farms in the province of Almeria. 
Pre-approved loans stand out for their low interest rate and quick and easy granting process, with which the bank covers the funding needs of farmers for them to have, rapidly and immediately, the pre-approved amount they may require for the initial investments of the campaign.
Unicaja Banco's 'Intensive Cultivations' new campaign includes also other financing modalities adapted to those developing their activities in the agricultural sector: 11-month loans with a very competitive interest rate, 6-month loans with 0% interest rate, or the Tarjeta Univerde card, with no fees at all and with the possibility to defer payments until the end of the campaign.
This promotion, which supports the production of fruits and vegetables with special focus on greenhouses, is especially relevant in certain areas of Andalusia. Its goal is to cover the funding needs, both for the purchase of supplies and to assist in the improvement of the acquisition of technology, increasing crop yield thanks to the installation of improvements in irrigation structures and systems.
Unicaja Banco continues to be one of the main financial institutions supporting agriculture. This support is reflected in the ongoing adaptation of its products to the needs of farmers and companies of the sector (fruit and vegetable traders, supplies, plastics and other ancillary industries), with the creation of a wide range of specialized financial products and services with interesting conditions, covering intensive cultivations, arable crops, olive grove, industrial crops, vineyards or livestock crops, as well as agri-food industry and trading companies.
These are some of Unicaja Banco's 'Intensive Cultivations' 2018-2019 campaign products and features:
1. General campaign: Unicaja Banco allocates €257.05 million to a line of pre-approved loans for customers of the fruit and vegetable sector:
-  'Intensive cultivations' campaign loans
Maximum amount: depending on the crop
Term: up to 11 months
Interest rate: very competitive
Repayment: upon maturity
- 'Interest-free intensive cultivations' campaign loans
Maximum amount: depending on the crop
Term: up to six months
Interest rate: 0%
Repayment: upon maturity
2. 'Five-year investment pre-approved' loans
Unicaja Banco adds, to the above, €35.38 million (for clients in the Almeria area with assigned amount) for a pre-approved loan for the update and improvement of Intensive Cultivation farms
3. Loans to finance agricultural insurance
Unicaja Banco offers a wide range of 0% interest rate agricultural insurances specific for fruit and vegetable companies, such as insurance of greenhouse surface or insurance of greenhouse structures. Unicaja Banco allocates a financing line of €17.64 million.
4. Tarjeta Univerde
Tarjeta Univerde is a professional card for farmers to be used exclusively in the stores attached to the Univerde agreement (more than 500 stores) and which offers the possibility to defer payments until the end of the campaign. This card has no issuance or maintenance fee, and no fees at all. It allows clients to choose among a wide range of different payment modalities.
5. Long-term investment loans
Funding line for improvements in greenhouses, to acquire new ones, to replace plastics for the campaign, to install drip irrigation, etc. All of them designed to meet the investment needs, adapting repayments and frequency of settlements to the specific needs of the sector.